This is an exciting episode when I meet Louis Markoya, an artist who spent six years as a protégé of Salvador Dalí. It is dedicated to two very special people – my wonderful friend and fellow author, Zoe Holohan, and the fabulous man, Paul Chimera, who introduced me to today's guest, Louis Markoya. Louis is continuing the work of Salvador Dalí today after a huge break from art after his six years as Dalí's protégé. Louis is exhibiting from 27th August 2021 until 6th February 2022.
Louis Markoya is a surrealist painter inspired by fractals and mathematics. As a former protégé of artist Salvador Dalí, Markoya's interest in lenticular prints developed while assisting Dalí on 3D projects that included holograms. LRMA is pleased to host an exhibition of Markoya's work this fall, which will include a retrospective of work since Dalí to present, including a series of paintings inspired by the pandemic and 3D holographic lenticulars.
This interview with Louis explores his journey into art which was inspired predominantly by Salvador Dalí and nature. We explore the places that have affected this creativity, his work with Dalí, and how he took a prolonged break from art only to return and carry on aspects of the Great Master's work. We also talk about the brain and art. Below you can read about Louis to get a fuller flavour of this episode.
By Louis Markoya:
During my childhood I had very little exposure to art and did not develop any real interest in it. I honestly did not even really know what art encompassed. My only childhood memories of going to art museums for class trips involved the Egyptian sections of the Metropolitan in NY.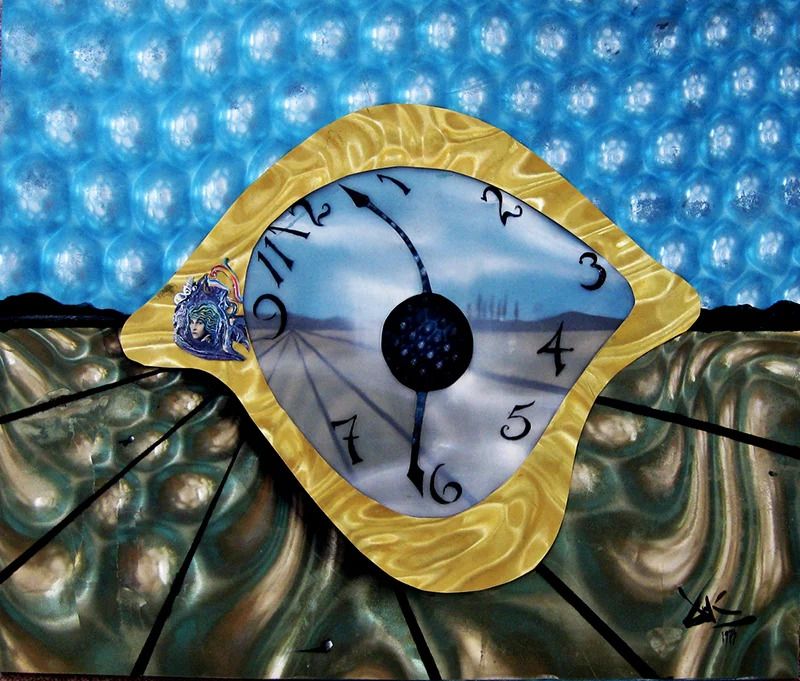 In 1968 that all changed in a trip with friends to the first mall to open in Connecticut. In that mall, was a Hallmark store which had a table with books, and in the middle of that table was a few copies of a book designed to suck you in with a gold foil dust jacket with much embellishment, and the Persistence of Memory in the center.
The book was Salvador Dali's Dali de Draeger. Thumbing through this book was an existential experience for me. Not only had I never saw art like this before, but I also did not even know it existed. Surrealism was something I had no idea how to consume, but it was the religious and Nuclear Mystical paintings that struck me strongest and made me physically feel something very different. I did not have the money to purchase the book, and except for Dali scribbled on a sheet of paper soon to be lost, I left astounded and empty-handed.
A year later my family moved to the center of town, wherein my walks to the beach, I passed the town library, which I never had access to previously. In the library I came across "My Secret Life" Dali's autobiography, and reading it, I was assured I had some connection with the man and needed to meet him. – how did this feel, had you ever felt like this before
In that reading, I also learned that Dali traveled to the United States and stayed at the St. Regis in New York every winter. So that winter I started calling. One Sunday afternoon I called and Dali answers and says come tonight 6 pm to St. Regis. Due to train schedules, I arrived at 6:20 or 6:30 and the front desk directed me to the cocktail lounge. Upon entering I saw Dali at the back of the room behind a table with lines of 10 to 15 people of the rich, famous and bizarre on either side of him.
Watching from a distance and seeing the long lines of people cued to talk to the master, I realized I had no idea what I wanted to say to him, so I ended up getting up and going home.
It was at this point I realized I needed some tangible reason to talk to him and decided I needed to teach myself to draw and paint, to have a point of reference to open a conversation, and hopefully start some kind of a relationship.
I started trying to paint immediately with very disappointing results as I had no color theory and was just more or less squeezing paint out of the tubes on the canvas and doing my best to make it conform to my designs. After a few paintings were completed this way I was upset that my work did not have the photographic quality of Dali's work with beautiful coloring and blending.
Research again at the town library introduced me to mediums and I was off. I produced roughly 10 or 12 very Dali influenced works before the next winter, photographed them and when winter came, again called the St. Regis on a Sunday. Dali again told me to come for 6 pm and because I now knew the routine (I later found the St. Regis closed the cocktail lounge on every Sunday night for Dali to hold court there while he was in NY) I arrived 30 minutes early. The front desk told me that Dali was not down yet and I can use the house phone to call him, which I did, and he came down immediately to meet me in the lobby. Once inside the cocktail lounge, we were alone and I explained I was an artist interested in his work and showed him my photographs. Sitting alone at a table Dali critiqued each photo (usually saying he had done it better) and at the end folded the set of photographs into a pile and announced, "We will do some collaborations".
This started a period of six years of working with Dali while he was in New York, and him inviting me to Spain and his home to help him set up his museum in the summer of 1974. During this time I worked on a wide variety of art-related projects for Dali, as well as doing research and acting as chief cook and bottle washer.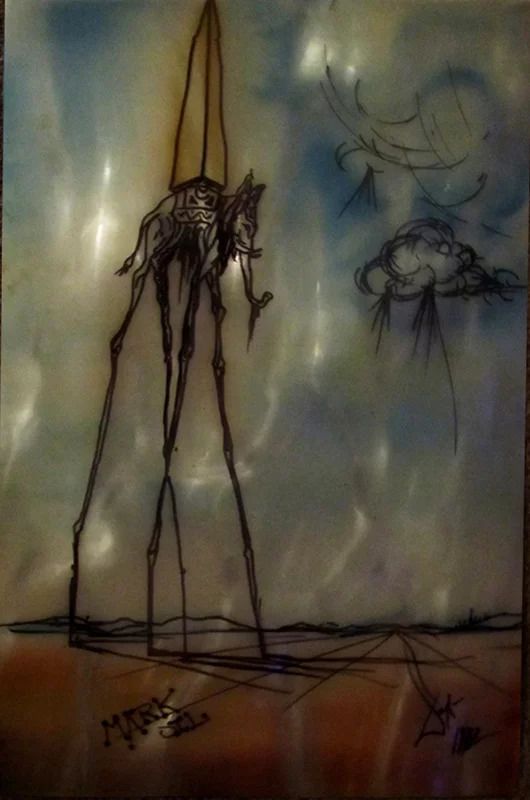 At the end of my time working with Dali, I knew how to create imagery like Dali but did not know what I wanted to create on my own. At the end of my time working with the master, I stopped painting and drawing, thinking that someday I will pick it back up again.
Thirty-four years later I saw the beginnings of development for the three-dimensional fractal online. The forms and geometry seem to offer endless possibilities all with mathematical precision. (2008)
Around the same time, I saw a movie marquee in Times Square that has Spiderman hanging off the side of the building in holographic 3D, but closer inspection led me to find that it was actually a lenticular print and I thought this can be the answer to Dali's and many artists dreams since the renaissance.
To be at the forefront of a new type of art, not only have I utilized math and fractal geometry to depict everything from thought and neural networks to the classics of painting, but I have developed the dream of artists since the renaissance (and especially Dali), that is to present the third dimension on a 2d surface. For the past 8 years, I have worked with developing the 3-dimensional lenticular print to make it truly a new medium for the artist and represents a very special way to offer multiples in limited edition runs.
To me, the highest aspiration of art is to stimulate the minds and emotions of your viewer. To actually have your viewer walk away not only smarter but with a new perspective, just from viewing your art. If an artist can cause the viewer to stop and think about the imagery in front of them, it can stimulate the growth of new neural networks enabling an entirely new view or way of thinking about almost any subject.
As far as locations that have affected me and my work I would say New York during the Dali days as I spent all that time in either the St. Regis or the Plaza hotels, much more sumptuous and grand than I was used to in my life. HOlding meetings and working in a studio in the St. Regis is one thing, but spending afternoons in the Plaza's Palm court having tea with Dali and always having the strolling violinist at our side was otherworldly.
The other places in the world that made great impressions on me were Barcelona, mostly for the Gaudi architecture and making everything that appeared soft in Dali'spaonings understandable, and Rome, with the grandeur of the cathedrals and artwork. This represented to me the ultimate achievements of architecture for man. Where the buildings would ascend into heaven due to their remarkable beauty, and not mere mortals.
Projects worked on with or for Dali can be seen on Louis Markoya's website.